The Quickest Cookie Recipe Ever and of course Chocolate is Included!
This post may contain affiliate links, which means I may receive a commission if you purchase through my link, at no extra cost to you. Read full disclosure here.
The king of easy recipes. These cookies will be ready to enjoy in a matter of minutes. I have made these 3-Ingredient Pumpkin Chocolate Chip Cookies drastically more than any other homemade cookies because there are only 3 ingredients, which means they are insanely fast to prepare. I also love the taste of them.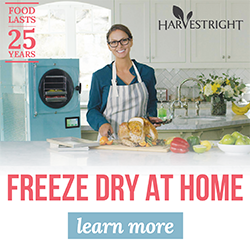 Pantry Cookies - Shelf Stable Ingredients
Pantry Cookies are your version of a cookie that has whatever ingredients you have available in your pantry to add. No running to the grocery store for this recipe. In other words, you may take a basic recipe and add any extra ingredient, like nuts, that are hanging around. Maybe you have some butterscotch chips or coconut flacks to make your own recipe of delicious cookies. My definition of pantry cookies is this recipe because I always have the ingredients for this recipe.
I've found that the best way to store my chocolate chips long term is in a 1 cup size mason jars, with an oxygen absorber, to extend their shelf life. This also makes it easy when you make these homemade pumpkin cookies, since the chocolate chips are pre-measured. I store these 3 ingredients next to each other in my long term food storage room so that I know I have the exact recipe amount of each. These delicious pumpkin cookies are the easiest dessert recipe I have in my long term food storage.
Some other pantry meal recipes you can easily have on hand for emergency use or long term food storage are, Hawaiian Haystacks or Easy Chicken Noodle Soup.
How to Make 3-Ingredient Pumpkin Chocolate Chip Cookies
1. Place all 3 ingredients in a large bowl; 1 box of spice cake mix, 1-15 oz can of pumpkin puree, and 1 cup chocolate chips.
2. Stir ingredients, by hand, until well incorporated.
3. With a medium cookie scoop, scoop cookie dough onto parchment paper, on a baking sheet. This recipe will make 24 large size cookies.
4. Bake cookies for 18 min at 350°. Transfer the cookies to a cooling rack. Cool completely before storing the cookies. Store the cooled cookies in an airtight container.
What does egg yolk do in cookies?
Eggs effect the texture of cookies. They help a cookie be light and chewy instead of dense or crispy.
I tried adding 2 whole eggs to this recipe and honesty the only difference I noticed was a smoother texture on top. They were still cake-like.  
In this image you can see the difference in the texture on top.
In this image you can see what the inside of the cookies with and without eggs. Since they tasted the same to me, I will continue making them without eggs.
How long do cookies last?
These cookies will last for a couple days on the counter. I live in a dessert climate so I don't know how they will do in a humid climate. Because they have pumpkin they do go bad quicker than other cookies. I recommend storing them in the fridge if they don't get eaten in two days.
Can you freeze pumpkin chocolate chip cookies?
Yes, you can freeze these cookies after they are baked. Make sure to completely cool the cookies before freezing. I also recommend freezing in an air tight container with a layer of foil between cookies. They can be kept frozen for 2-3 months.
Other Pantry Meals You May Enjoy
3-Ingredient Chocolate Chip Cookies
Only 3 simple ingredients for this cake mix cookie recipe. Chewy Pumpkin Chocolate Chip Cookies are a fall season favorite. As quick as these cake-like cookies are to make, they may become more than a pumpkin season favorite.
Ingredients
1 box Spice Cake Mix
1 cup Chocolate Chips
1 15 oz can Pumpkin
Instructions
Preheat oven to 350°.

Line cookie sheet with parchment paper or silicone mats.

Combine all 3 ingredients (spiced cake mix, canned pumpkin puree, and chocolate chips) in a large mixing bowl.

Stir ingredients, by hand, until well incorporated.

Using a cookie scoop, place dough balls on the cookie sheet. Bake for 18 minutes.

Cool the cookies on a wire rack to room temperature before storing the cookies. Store cookies in an airtight container.
Notes
Pumpkin - Use 100% pumpkin canned. Don't use canned pumpkin pie filling. Any brand of pumpkin will work.
Chocolate Chips - I use semi-sweet chocolate chips. Milk chocolate chips are great as well. You can also increase the chocolate chips to 1 1/2 cups if you prefer extra chocolate. Chocolate chunks are also a good option.
Cake Mixes - Any brand of cake mix will do. The next time you make these cookies, try using a yellow cake mix or white cake mix. I haven't tried it yet but if you need gluten-free, you could try a gluten-free cake mix. Let us know in the comments how it turns out.
Pumpkin Pie Spice Seasoning - If you like pumpkin spice flavor, you can add a little of these pumpkin spices.
Variations
Rather than cookies, try making these into Pumpkin Chocolate Chip Bars.
Cream cheese frosting tastes great on top of the cookies.
Pantry Cookies- Create your own great recipe by adding or substituting other ingredients in your pantry, such as:
Walnuts or Pecans
Coconut flakes
Butterscotch chips
White chocolate chips
Nutrition
Serving: 1cookie | Calories: 127kcal | Carbohydrates: 22.3g | Protein: 1.7g | Fat: 3.5g | Saturated Fat: 1.9g | Cholesterol: 2mg | Sodium: 135mg | Potassium: 68mg | Fiber: 0.8g | Sugar: 13.5g | Calcium: 55mg | Iron: 1mg
This post was all about the super easy, 3-ingredient Pumpkin Cookies with chocolate chips. These easy pumpkin cookies are made completely from ingredients in your pantry. They make for an easy dessert option when you are short on time or for long term food storage. We hope you enjoy the really great recipe.